HANS KR. BUKHOLM is an award-winning cinematographer based in Bergen, Norway. His primary field of work has been the making of documentary films, as well as that of art short films. He is the scriptwriter, producer, cinematographer and director of several documentaries made for NRK (Norwegian State Broadcasting) and others.
Having worked extensively with special effects, Bukholm has developed and produced SFX equipment of his own invention. 
This equipment has been put to use in his own film productions, as well as in several Norwegian feature films – in particular by directors Vibeke Løkkeberg and Emil Stang Lund for whom he has also played the part of second unit cinematographer, as well as Director of Photography on a number of sequences.
Having a long-standing interest in large format motion picture film, Bukholm has also developed his own technologies in this field. His own system for production of 35mm anamorphic scope and 65/70mm film has been credited as «HKB-Scope» and «HKB-65/70» on several feature and short films.
Hans Kr. Bukholm has been the recipient of several film awards abroad. He has been awarded with «Best cinematography» accolades from film festivals in Italy and the United States.
Over the years, Bukholm has developed a passion for the preservation of Western Norwegian maritime culture and traditions. His own contribution to this field consists of the documentation of crafts, interviews with senior craftspersons, as well as systematic photographic documentation of human settlements and maritime culture dating back to the Viking age.
In 2007, Hans Kr. Bukholm was awarded the title of Government Grant Holder by the Parliament of Norway.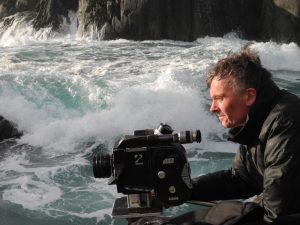 Hans Kr. Bukholm shooting in 65/70mm on the Norwegian west coast 2016. 
---
ANETTE THORSHEIM received her artistic education from Stockholm Academy of Music, as well as Master studies in traditional arts from the University of Telemark, Norway. She has also studied Nordic languages and educational sciences at the University of Bergen.
She performs both as a soloist and as a member of ensembles like the Swedish-Norwegian collaboration efforts «Oleman», «Tritulen», and duo work with the  fiddle player Jeanette Evansson. As music educator, Anette Thorsheim teaches music on many levels, including teaching of children with special needs. Working as a cultural mediator, she has initiated and curated museum exhibitions in Northern Hordaland, Norway.
Starting in 2013, she entered into a collaborative partnership with Hans Kr. Bukholm, the purpose of which has been the organising and curating of photography exhibitions, as well as the development of book and film projects. She has made major contributions within the field of script-writing, visual development, the organizing of production and especially as a co-director alongside Hans Kr. Bukholm. She has also worked as an editor on pilots and other material during the last couple of years.
EQUIPMENT

Bergen Filmutvikling own 16 mm, 35 mm, 65/70 mm motion picture camera equipment, in addition to 4K digital equipment. Our scope lenses, to be used with our 35 mm film and 4K digital cameras, were modified in-house for SFX-cinematography. We have also developed our own equipment for dolly camera shots, time lapse cinematography in 65/70 mm, as well as a rig for aerial filming. The «Clear Screen» device, originally developed by Freddie Young to be used during the shooting of "Ryans Daughter" in 1970, is another technology we have built. It enables shooting in maritime surroundings, where airborne water droplets would otherwise obstruct the shooting. (The above-mentioned equipment has been designed and built primarily for our own use.)
Anette Thorsheim. Photo: Hans Kr. Bukholm.